FINRA Fingerprinting

New York Fingerprinting in partnership with Accurate Biometrics provides EFS (Electronic Fingerprint Submissions) for FINRA. One of only ten Certified National Vendors, Accurate Biometrics utilizes the latest technology and software operated by trained fingerprint technicians. This affords applicants the most positive and efficient fingerprinting experience possible. We offer this service at our facility at 22 Park Place 4th Floor, as well as on a mobile basis where we travel to your office with our Live Scan equipment to collect and transmit fingerprints.
The information below will explain the EFS (Electronic Fingerprint Submission) process as well as the steps required to register your company.
About Us
New York Fingerprinting in partnership with Accurate Biometrics provides EFS (Electronic Fingerprint Submissions) for FINRA. We collect and transmit fingerprints securely and electronically, enabling broker dealer firms to track and retrieve results within 48 hours or less. Electronic Fingerprint Submissions improves print quality, reduces rejection rates while maintaining comppliancwe with FINRA rules and regulations.
Benefits
There are many benefits of using the EFS (Electronic Fingerprint Submissions) program including: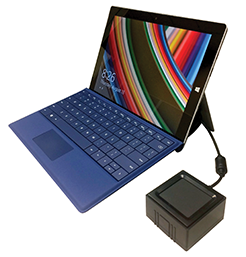 Speed
Electronic Submissions are sent to FINRA eliminating mail delivery time and are ready for immediate transmittal to the FBI. This program allows for the fastest turnaround time and speed of results, and processing times
Cost
There are no postage fees to pay and lower FINRA fingerprint processing fees assessed for electronic fingerprint submissions. Typically, there are fewer fingerprint re-submissions required for an individual because of improved image quality which further reduces firms' costs.
Image Quality
Electronic fingerprints offer lower illegibility rates than hard copy submissions, leading to fewer fingerprint transactions that need to be re-submitted for an individual.
Efficiency
Increases processing efficiencies
Accurate Biometrics is proud to offer a program for direct
Accurate Biometrics is a commercial vendor who has successfully completed FINRA's Electronic Fingerprint Submission (EFS) certification testing from a technical standards perspective only.
They are certified to participate in EFS.
We are proud to offer a program in partnership with Accurate Biometrics for direct FINRA EFS Fingerprint Services (Electronic Fingerprint Submissions) to the United States securities industry and its regulators, including securities brokers-dealers, banks and FINRA members.
We provide the experience and systems needed to process your FINRA EFS:
15 years of live scan fingerprinting experience
FBI approved channeler of fingerprints
Secure, expedited solutions to assist in processing FINRA license applications
Dedicated service support team to our FINRA customers
Customized solutions and reporting to meet customer specific needs
Convenient billing and onsite payment terms
Easy, simple steps to get started
Step 1:
Notification to FINRA
Complete the following official FINRA Broker-Dealer Agreement informing FINRA that Accurate Biometrics and New York Fingerprinting will serve as your authorized fingerprint agent.
http://www.finra.org/sites/default/files/AppSupportDoc/p005411.pdf
Return the Broker-Dealer EFS Participant Agreement back to us at:
New York Fingerprinting
22 Park Place 4th floor
New York, NY 10007
Step 2:
Account Setup
Contact the New York Fingerprinting Key Account Management Team at 212.227.2709 or email [email protected] to set up an account for your firm. Please have your firm's CRD number ready in order to expedite the account setup process.
Once your account is established, you will be provided with your Firm's custom EFS Authorization Form.
Your Firm's applicants will need to complete this form and give it to New York Fingerprinting when having their fingerprints taken electronically.
Step 3:
Submission of Fingerprints
Obtain Live Scan Electronic Fingerprints and have transmitted to FINRA at a New York Fingerprinting location.
Step 4:
Fingerprints are Transmitted to FINRA
Electronic submissions are received by Accurate Biometrics for EFS processing and transmission to FINRA.
Results are posted on the FINRA-CRD (Central Registration Depository) within 48 hours. Authorized user may log into FINRA's Web CRD to view the results.
Process
The fingerprinting process as mentioned can be completed at our offices or we can travel to your location. One of our trained fingerprint technicians will scan the applicant's prints on a platen glass scanner which usually takes about 10 minutes. Using this method there is no ink, and no mess. The technician is most often sitting while the applicant is standing alongside them which makes for a positive, minimally disruptive experience.
Fingerprinting Requirements
FINRA processes fingerprint transactions submitted by firms on behalf of their associated persons. FINRA firms and associated persons are subject to the fingerprint requirements of Rule 17(f)(2) of the Securities and Exchange Act of 1934.
This rule states that fingerprints must be submitted via two methods:
A firm may submit hard copy fingerprint cards to FINRA or a firm may submit fingerprint information electronically to FINRA under FINRA's Electronic Fingerprint Submission (EFS) Program.
This must be completed within a 30 day time period after a U4 is submitted to FINRA or the employee of officer must cease doing business until complete.